What healthcare providers say
When developing our products, we work closely with real eldercare practitioners. This practical expertise and experience are extremely valuable knowledge we can use to design and improve our play concepts.
Here, we are letting these professionals share some of their stories.
Eldercare physician - Luc Kemps
Luc Kemps has worked as a Dutch cardiologist in training, and is now a physician in training. At the moment, he is now working as an elderly caregiver.
''Retirement homes are becoming more and more concerned with maintaining and improving the people's mental and physical abilities. This is no longer a passive, but a very active process that can be challenging for both the organisation and its clients.
In our nursing home, we now have a BRYM Table. Our clients have told us they really enjoy taking a seat and playing a game or two. The games are easy to play, and the pictures are large enough for them to see clearly. This interactive table has ensured that people will leave their rooms more often and come join everyone in the common area. They can even independently start games and invite others to play along. Their children who come visit can also see how positive an influence this table has on their elderly parents' mood and wellbeing.
The Activity Wall is a very nice way to help keep our patients fit. This game mainly helps to train their eye-hand coordination and balance. It also adds a fun atmosphere to the room, and is used not only by the elderly, but even their visiting grandchildren with whom they can even play together.
We've also created a special ritual for our daily activities using the Inspiration Wheel. The people really look forward to spinning the wheel and being able to contribute to the decision making process for that day.
Retirement home residents are often very vulnerable. But by challenging them in a comfortable, interactive way both mentally and physically, we can help improve their well-being and their quality of life. It's beautiful to see caregiving institutions embrace such modern and available technology, giving their residents better opportunities to feel and stay lively.''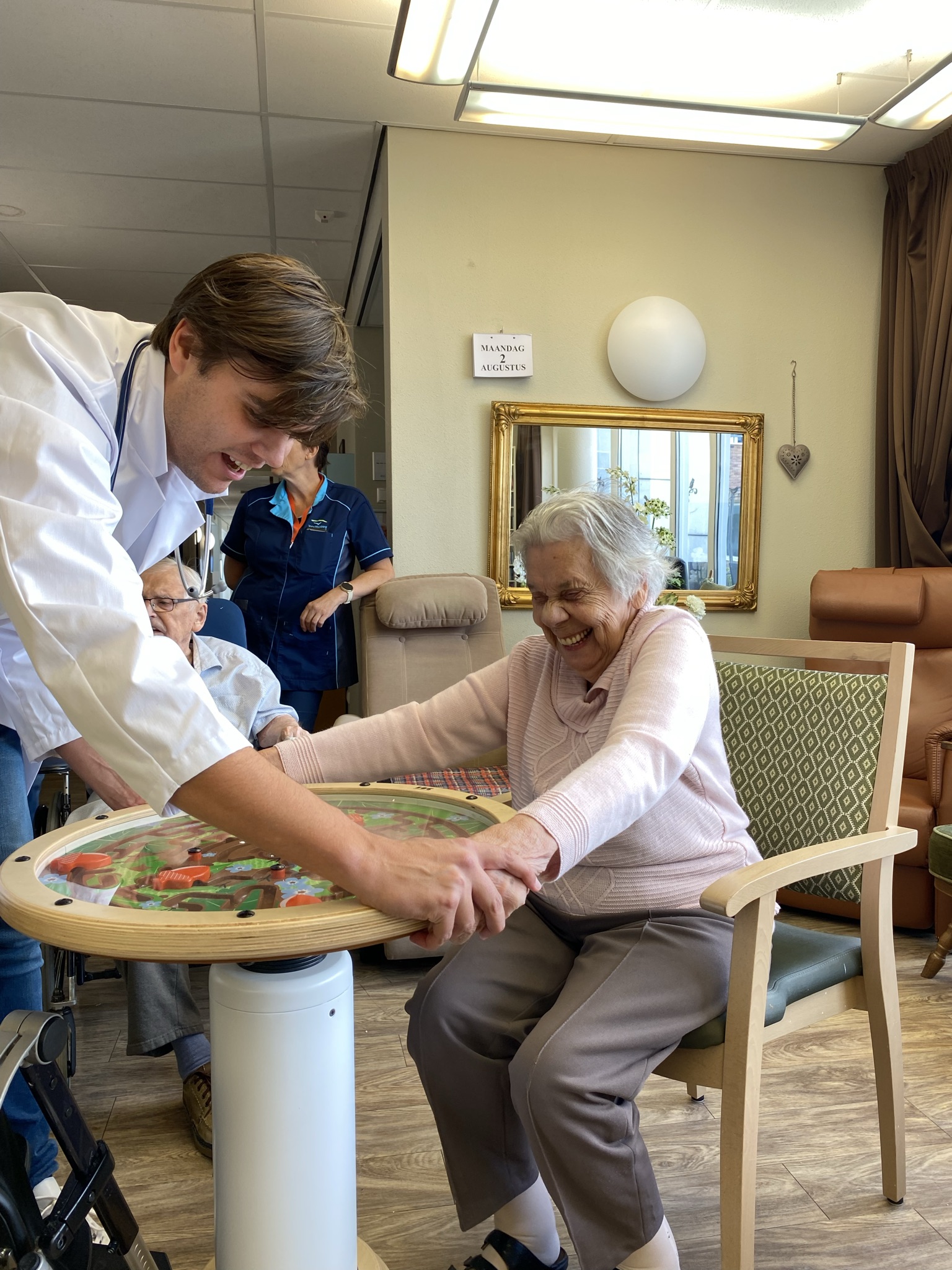 Physiotherapist - Mattheo van der Horst
Mattheo van der Horst has been a Dutch physiotherapist for 10 years, and now has his own medical centre. Any physical complaints are treated in multidisciplinary ways by Mattheo himself and other psychologists, dieticians, podiatrists and paediatric physiotherapists within his health centre.
Mattheo specialises in physical exercise methods for the elderly. 
"Often, us humans are very preoccupied with ageing beautifully, and we do a lot to try to achieve this. Vital ageing is actually much more important, but unfortunately people tend to do less for this. Staying vital doesn't just happen on its own. Elderly people often do not practise any sports anymore, and they don't go to the gym either.
That's why it's important to have exercise equipment nearby. By placing the equipment in common areas, such as hallway or corridors in retirement homes, people are reminded every time they walk by. By incorporating fun exercises in their daily routine, they remain more flexible in their muscles and joints, and they will not only feel more confident but also better physically.
Of course, it is very important that all materials are safe to use. At an older age, people are often afraid of falling, because once they have had a negative experience, it becomes intimidating to try again. The great thing about ISC products is that they're made from solid materials and meet the highest safety standards."
 
According to Mattheo, people accept their ageing process too easily. But if you keep track of your daily routine, he claims you would still be able to run a marathon at the age of 80 !