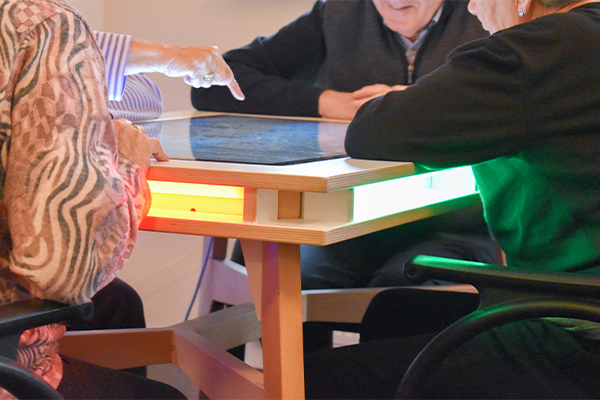 The BRYM Table encourages playing together!
The name BRYM is a combination of the words 'brain' and 'gym', which perfectly describes the games this table aims to provide!
Our BRYM Table and BRYM Table DeLuxe have been specially developed for retirement homes, nursing homes and other elderly social clubs. This interactive table helps contribute to social interaction and a homely atmosphere, and is designed to be easy to use. It stimulates brain activity in a playful way, with various thinking and board games that people may recognize from when they were younger.
The advantages:
Creates social interaction between the people
Stimulates cognitive skills such as memory
Helps train and maintain good eye-hand coordination
The BRYM Table software
The software has been developed by our own studio department and is easy to use for the elderly. The software consists of various thinking and board games which can be played alone, against the computer or with each other. Games such as Ludo, checkers or puzzles are some examples. Because of the multiple touch function, up to 4 people can play a game at the same time.